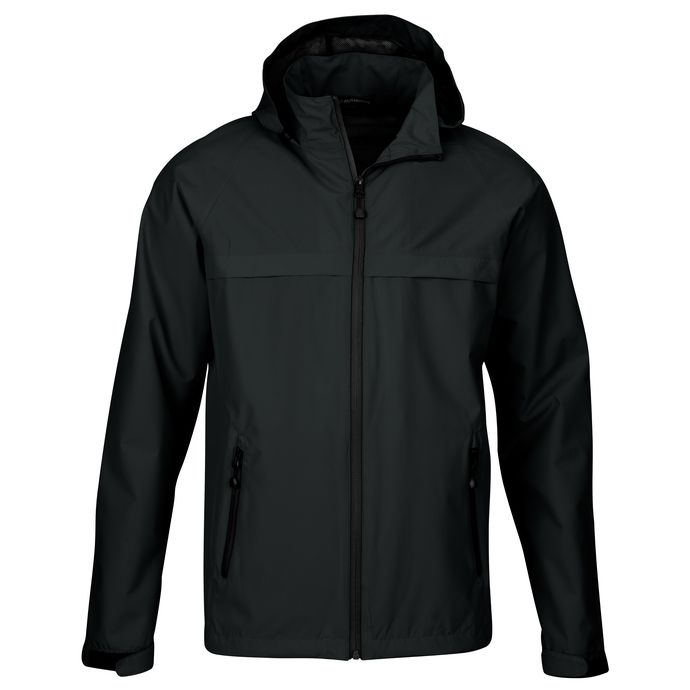 Scott Waterproof Jackets
100% Polyester Waterproof Jackets or Raincoats
Features a hood with full front zipper
Adjustable cuffs with Velcro
Front pocket with waterproof zippers
Customization technology: Embroidery

Cash on Delivery available
Stay Dry when It's Raining with Customised Waterproof Jackets
MATERIAL:

 100% Polyester Waterproof Jackets or Raincoats

GENDER:

 Men and Women, Unisex

COLOUR:

 Black

MATERIAL:

 100% Polyester

MATERIAL DETAILS:

 Outer Shell 100% Polyester

SLEEVES:

 Long Sleeve

FASTENER TYPE:

 Zipper

CUSTOMISATION LOCATION:

 Left Chest

FRONT OPENING:

 Full

DECO AREA SIZE:

 3.7 x 3.7 in (94 x 94 mm)

JACKET LENGTH:

 Short (Hip)

POCKETS:

 Front Pocket(s)

FRONT POCKET CLOSURES:

 Zipper

ZIPPER COLOUR:

 Black

HOOD:

 Not detachable

HOOD LINING:

 Mesh-Lined 100% Polyester

SPECIAL FEATURES:

 Elastic Drawstring at Hem, Waterproof

FIT FEATURES:

 Dropped Back Hem, Raglan Sleeves

CUSTOMISATION TECHINOLOGY:

Embroidery
Don't let the rain showers dampen your spirits. Our Men's & Women's Waterproof jackets and raincoats are designed to keep you dry and comfortable as the rain starts to fall. Our jackets have a range of important features including adjustable cuffs with velcro, front pocket with waterproof zippers and a hood with full front zipper so you can carry everything you need whether you're camping, hiking, riding bike, cycling or walking a dog. Our Waterproof Jackets are the perfect lightweight companion to carry in your bag for unexpected showers.
You can promote your brand with personalized Waterproof Jackets. Creating custom rain jackets for your team is an effective way to promote your company logo and build brand awareness. Having all your team members wearing matching jackets presents a consistent and professional branded image. These raincoats are also great for traveling staff members, employees on the road, or any member of the community. It helps you keep your groups name on top of mind, rain or shine.
With no minimum quantity requirement, it is also ideal for individuals like photographers, travelers, adventure lovers, trekking lovers, bikers too.
Creating Custom waterproof jackets or raincoats online from Vistaprint leave you worry free as we offer complete satisfaction or your money back guaranteed. We also conduct Quality check @ every step before shipping a product. There are no hidden charges and with Vistaprint, what you see is what you get. COD and free shipping available.
SIZE CHART
| Size | S | M | L | XL | 2XL |
| --- | --- | --- | --- | --- | --- |
| Size/Chest (in) | 38 | 40 | 42 | 44 | 46 |
| Full Chest (Circumference) | 43 | 45 | 47 | 49 | 51 |
| Length | 25 | 26 | 28 | 30 | 30 |
| Sleeve Length | 28 | 29 | 30 | 30 | 31 |

Tolerance +/-1 inch
FAQ – Frequently Asked Questions
Q: How do I customise my waterproof jacket?
 You can start customizing the jacket by adding details like your company name, logo or the design you wish to display. Ensure the font size are big enough to be visible, and the colours are in contrast. Designs with lesser details will come out really well.
Q: Does the jacket have pockets?
A: Yes, there are two pockets on the front side, with zip.
Q: Is the hood detachable?
A: No. Hood is attached to jacket for better protection from rain fall.
Q: Can I wash my waterproof jacket? If yes, how?
A:  You can wash your jacket with hands or in washing machine. You can use a mild, nontoxic, biodegradable detergent. Waterproof jackets should never be washed using ordinary detergent or fabric softener. The chemicals in detergent can break down the composition of the fibres with each wash and strip the fabric of its waterproof coating. However,
Q: Can I use brush to wash the jacket?
A: No. Do not use brush to wash jacket. It can damage the embroidery work on the jacket
Q: How do I dry a Waterproof Jackets or Raincoat? (Need to Confirm with Plant Team)
A: Dry your jacket by hanging it on a rack or hanger, or in the dryer on medium heat.
Q: Is there a guarantee or warranty of the material?
A: No. But we do have a replacement policy if you are not satisfied with the product. Please check our replacement policy for more details.
Q: Can I get embroidery on the back of the jacket?
A: No. Embroidery or customization can be done only on left chest. The area of customization is 94 cm x 94 cm
Q: Do I get choice of colors?
A: We have jackets only in black color as of now. We will try adding more colors in future.
Q: Do you have zipper or Velcro to fasten the jacket.
A: We have black zipper.
Q: Will my embroidery get damaged in rain?
A: No. Your embroidery is safe in rain and shine.
Vistaprint India customizes all its products in facilities located within India. Some of our raw materials, intermediate components, and consumables used in the manufacturing of the final product could be from one or more countries. 
As we follow Global Sourcing, one product is likely to have a different country of origin depending on the batch sold.
Country of Origin: India
Back to Top