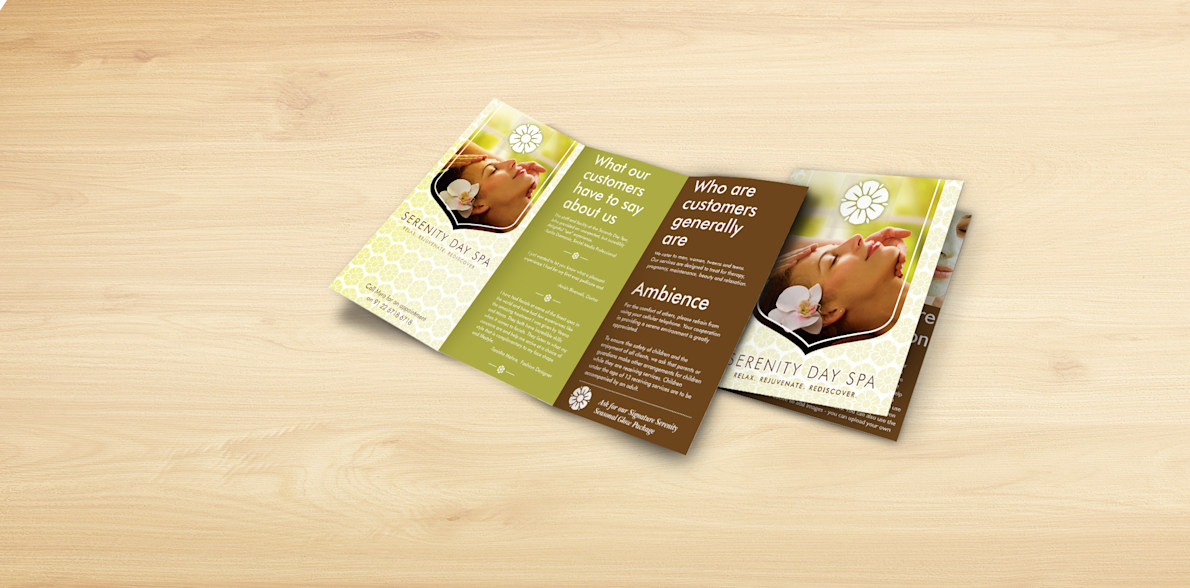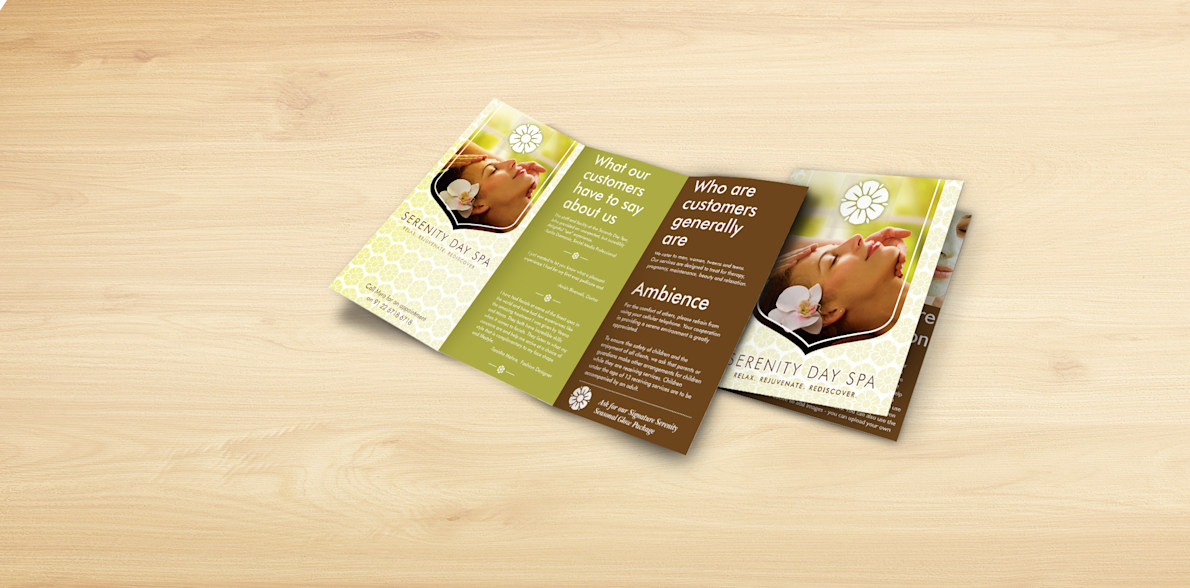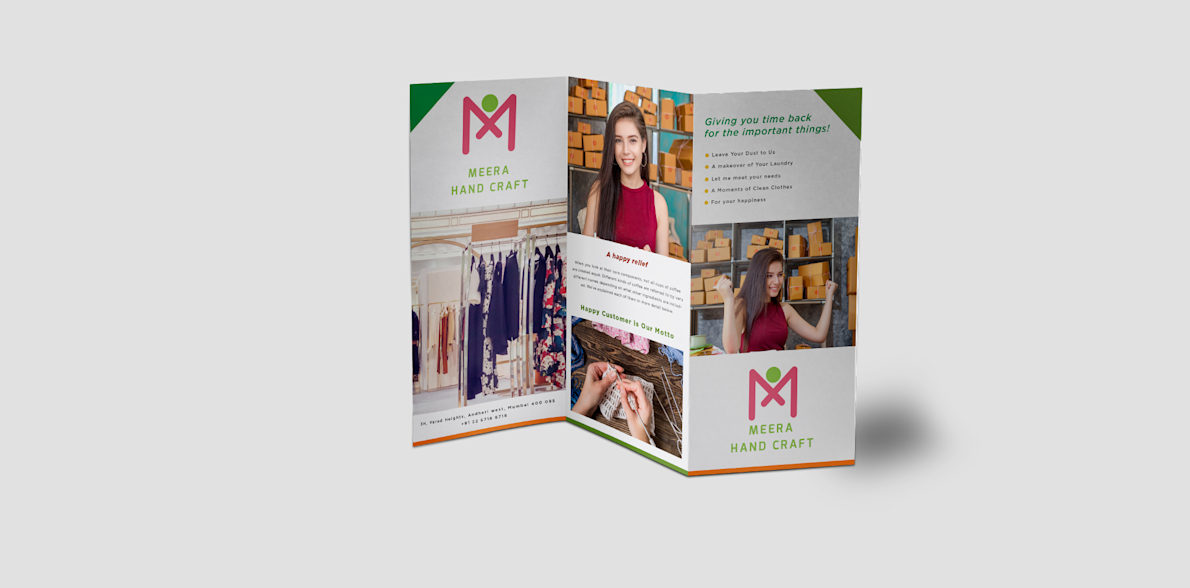 More to say? Customised folded leaflets help you tell the whole story.
Folds & panels help organise or highlight information
2 Fold Options: 4 Panel Bi-fold and 6 Panel Trifold
Design options for all sizes
Delivered pre-folded for your convenience
Looking for Brochures in bulk? Click here
Cash on Delivery available
Price below is MRP (inclusive of all taxes)
See Details
Fetching compatible options

100% satisfaction guaranteed
Brochures & Pamphlets: An organized, effective way to share information, market your business & generate leads
When you're talking to potential customers, less isn't always more. Our easy-to-make brochures let you tell a more complete story about your company and what it can do. Even though it's made from a single piece of paper, a brochure is one of the most flexible marketing tools a small business owner can use.
What is a brochure?
A brochure is an information booklet with information & pictures about a product or service that can be designed keeping your objective in mind. The highlight of a brochure is that it is easy to pick-up & carry while providing a customer reasons to take action. Actions can range from getting people to call your number with a lead to going online & buying something on your website.
What can you use a brochure for?
You can use a brochure template as a complete marketing pitch, or to enhance the pitch you're verbally telling your prospective customers. You can use it to talk about a single product or to sell your company & brand as a whole. You can leave one behind, place it on a display, hand it directly to your customer, or send it to them through a direct marketing campaign.
How to pick between Bi-fold & Tri-fold brochures?
Bi-fold & Tri-fold brochures both have their USPs and can be picked basis your objective of designing a brochure. We have listed down a few reasons to make it an easier choice for you.
Go for a Tri-fold brochure when:
You want to cover multiple aspects or products of your business
You wish to showcase a lot of information & detail
You want to show a series of steps & processes involved
Go for a Bi-fold brochure when:
You are using large graphics & images to showcase your products & services
You want to use photography to have the spotlight in the brochure design
You want to provide product guides & comparisons
How do you make a brochure?
Each section of a brochure created by a fold is called a "panel". A bi-fold brochure has four panels & a tri-fold brochure has six panels. Each panel is an opportunity to answer a question, explain a benefit or address a customer's need and hence require a great deal of thought before designing.
Decide what information is going to go where once that is set, it is all about putting that information into words. Information that every brochure must have includes your brand logo, contact information along with the product/service details you offer.
A few tips to keep in mind:
Keep the language simple, easy to understand and to-the-point. Short & direct sentences go a long way in being understood.
Speak directly to the customer by not referring to your business in third-person. This will help in making a direct connection with the customers.
Once you are ready, read it aloud to spot complex sentences, difficult to read paragraphs and general typos.
To make it easier for you, we have over 3500+ professionally designed brochure templates designed in mind to give you maximum value out of your brochures.
Picking the paper to print your brochure design is another important aspect. We at Vistaprint offer you the most popular and fail safe design to print brochure designs on 148 gsm Glossy paper which works great for vibrant colors & large photographs.
Expert tips to make the most out of your brochure
Figure out businesses that might have common customers with you and try to place your brochures in their premises.
Include them in customer giveaways or packets that you leave with your customers after calls. You can also give them out before making a presentation about your business.
Take them to trade shows, exhibitions, seminars, meetings & conferences with you as they are the ultimate tool to give out maximum information in the small time & space.
The Site should not be used to produce material covered under the purview of The Representation of the People Act, 1951. You release us from all liability relating or arising out of such content or product.
Vistaprint India customizes all its products in facilities located within India. Some of our raw materials, intermediate components, and consumables used in the manufacturing of the final product could be from one or more countries. As we follow Global Sourcing, one product is likely to have a different country of origin depending on the batch sold.
Country of origin: India